THE CHURCH ST. PARASKEVA (13th -14th century) is a single nave church, 15 m X 6 m in size, with a nartex. A pentagonal apse is jutting out to the East. The church is built of hewn stone and bricks in rows. The southern and northern facades are ornamented with blind arches which drums are richly decorated. The motives are fishbone, sun, zigzag, checker board etc. are made of stone and bricks too. Over them decorative ornaments - round and glazed saucers are walled in. Result of later reconstruction, the roof of the church has two slopes. It is a typical cruciform church - the roof is formed as a cross and above it, in the central part, there is a drum with a dome. In the past there has been a bell-tower over the nartex. Its existence is proved by the stone stairway inside between the naos and the nartex.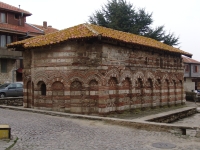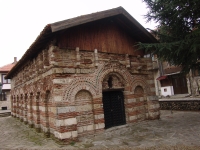 At present, following the "Faith in Nessebar" restoration project, the church operates as a museum. The exhibition arranged in the church is under the title "Surviving murals from lost Nessebar churches". For the very first time, murals from the lost St George "the Elder" church, destroyed in 1958, are exhibited to the public. The church was built in 1704 in the south-eastern part of Old Nessebar. Most of the retrieved mural paintings were taken to the National Archaeological Institute in Sofia, and only a small part remained in Nessebar. These surviving murals dating to the beginning of the 18th century, along with some wall painting from St Clement church, are the theme of the exhibition.
The church operates as a museum.